Medford Senior High School

Class Chats!
Posted on: Jan 18, 2021 at 1:25 PM
happy birthday mike Randy was always nice to me when we saw each other. Was sorry to hear he passed.
happy birthday richard, i remember you very well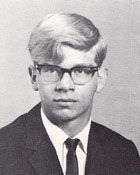 I don't visit this site very often so just seeing the posting of Candy's death. She was such a precious person. I'm so sad her life was cut short by such a terrible disease?? Wish I had seen her more lately. Remembering her makes me remember being young and new to the area and how she reached out with friendship.