Medford Senior High School

Class Chats!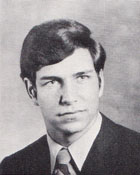 Could not agree more with Cheri. Enough passing. Everyone start taking care of yourselves so we can meet up at the 80th Birthday party!
Happy birthday to you my friend. Hope you're still as happy as you look in this picture.
heres hoping that everyone has a blessed turkey day tomorrow.
stephen
I'm so terribly sorry to hear of Greg's passing. I was friends with his sister Debbie & even went on vacation with the Gleaves family back in about 1967. Greg was always nice to me & I always had a good time around Debbie & Greg. God bless!!
Jan (Hunt) Nelson
Posted on: Nov 07, 2022 at 1:33 AM
I knew Saga since I was 5. She was delightful and took alot of comments that weren't very good. I was wondering about her, but, since I left in my Senior Year I never hreard from her again. May she rest in peace.
Posted on: Oct 21, 2022 at 6:51 AM
Happy Birthday Marchelle, hope you have a great day.
Posted on: Oct 14, 2022 at 11:52 AM
Happy Birthday
Miss seeing you around. Happy birthday to you my friend